Why do travel lovers
love Brussels tourism?
I have a confession...
When my family and I made our first Brussels tourism plans, we knew very little about this corner of the world.
We were familiar with Paris, London and Amsterdam - some of Europe's most popular travel destinations. But who goes to Brussels Belgium?
And why?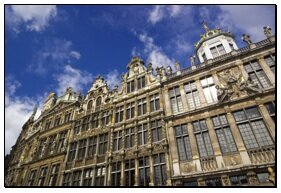 Turns out that a lot of folks do.
And for a great many reasons. Reasons like Belgium chocolate, the spectacular Grand Place, and the many historical sites like the Waterloo Battlefield.
In fact, more and more travel lovers are making Brussels tourism plans and discovering all this city has to offer.
Unlike her louder, more flamboyant sister European cities, Brussels is somewhat reserved.
She waits patiently for you to catch her eyes. Then she romances you with her rich history, beautiful culture, gourmet cuisine and distinctive attractions.
And before you know it, your heart is won and you fall in love with her.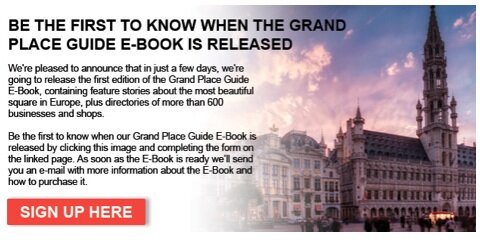 Click Here For More Information About The Grand Place Guide And To Be The First To Know When The Guide is Released


Before we go any further, allow me to introduce myself...

My name is Jeff and Brussels-Belgium-Travel-Guide.com is my tribute to the Capital of Europe. (That's right...among other things, this city is the headquarters of the European Union.)

Nine years ago, my family and I did more than visit here. We moved here. And during that time we've fallen in love with this city and other parts of this small country nestled between France, Luxembourg, Germany, Holland and the North Sea.

(At right is a photo of my wife and me overlooking the battlefield where Napolean 'met his Waterloo'.)

We know that some of the larger European cities have more to offer in sheer size and scope. And we appreciate those cities. But we've discovered that bigger isn't always better.

In fact, sometimes small can be just the right size.

This city is small enough to visit for 24 or 48 hours and come away with an appreciation of Belgian life and culture. But it's large enough to hold your interest for weeks, keeping you occupied with things to do in the city and beyond.

And that is my inspiration for publishing this Brussels tourism and travel guide.

So, where do you start with your Brussels tourism plans?

Well, first you have to get here! High speed trains such as Eurostar and Thalys will get you here in a flash from London, Paris and other European cities. Airlines from around the world fly into Brussels Airport in Zaventem (just outside Brussels) and the Charleroi airport offers flights from European airlines including Ryanair. And of course, buses and cars come into the city on highways from neighboring countries: France, Holland, and Germany.

Once you arrive, we recommend starting with the Grand Place, central to all things Brussels, and often called 'the most beautiful European town square.'

At the Grand Place, you'll find hotels, museums, restaurants, coffee shops, chocolate shops, lace and tapestry shops, a national tourist office and more

It's the best introduction to the city and THE place to start your Brussels tourism and travel adventures.

In fact, we've just written a special E-Book Guide to the Grand Place and will release the book in just a few days. In this E-Book, you'll find sections on the history of the Grand Place, a listing of some of our favorite shops, things to do and see, features on Belgian food, plus directories of mor than 600 shops (listed by street and by category). Save time and money by planning your visit to The Grand Place before you come!

Click Here For More Information About The Grand Place Guide And To Be The First To Know When The Guide is Released


After you've visited the Grand Place, you'll want to see some of the sites around the city, take a tour or sample Belgian chocolate.

For example:


Visit The Atomium, a site-to-behold structure created for the 1958 World's Fair;

Take A Brussels Walk and choose from a variety of individual and group walking tours featuring Belgian chocolate, Belgian pubs, Art Nouveau and Downtown Brussels;

Sample Belgian Chocolate at one of the many Grand Place chocolate shops where you can choose from Neuhaus, Leonidas, Godiva, Galler, Planete Chocolat, Chocopolis and many, many more.

More reasons to love Brussels...

If you have children, you'll want to take them to the hands-on children's science museum, Technopolis. Fun for kids of all ages, our children love it and so do we.

If you love comics, then you'll be glad to know that Belgium is the 'Kingdom of Comics'. This country is home to some 700 comic strip authors as well as the Belgian Comic Strip Center, a museum promoting popular Belgian comics like 'Tintin'.

And who could pass up the Museum of Cocoa and Chocolate? No country is better known than Belgium for what it does with the cocoa bean. This museum is the city's tribute to its famed chocolate delights.

There are more reasons to keep you in the city, but if you have the time, you'll want to add some of our favorite Belgium travel adventures beyond Brussels to your plans:

Visit Waterloo to the south (where the famous battle was fought);

Experience the beautiful Ardennes mountains to the east;

Check out the port city of Antwerp to the north;

And spend a day in Brugges to the west, often referred to as the 'Venice of the North'.

After all that, you'll be hungry!

And you just happen to be in one of the gourmet capitals of the world.

This city offers gourmet eating that rivals any European city, so your Brusels travel experience should include sampling some of the great Brussels restaurants where you can enjoy delicacies like mussels, roasted chicken and frites (fries), fondue, and Belgian chocolate mousse.

And with its large international appeal, the city offers many restaurants with cuisine from around the world including Africa, Asia, India, Lebanon, Tex-Mex (a blend of Texas and Mexico) and many, many more.

No doubt, you'll want to experience the intimate smoke-free cafes and bars offering Belgian-roasted Douwe Egbert coffee or one of the many famous Belgian beers.

And no visit here is complete without having an original hot Belgian waffle and taking home a Belgian tapestry.

Many will agree that you could come here for the food alone.

All of this in a country small enough to drive across in a few hours.

Brussels may not be a big city tourist mecca. But as you can see, it offers world-class attractions, cuisine and culture with a small town heart. And that's worth its weight in chocolate.


Now you see why this beautiful city won our hearts. We've had nine years to take it in and we're excited about sharing all that Brussels tourism and travel has to offer.

Please take some time to explore the history and experience the beauty of this corner of the world through Brussels-Belgium-Travel-Guide.com.

And on your next trip to this corner of the world, put Brussels tourism and travel plans at the top of your list.

You'll discover for yourself why travel lovers love Brussels tourism.

Click Here For More Information About The Grand Place Guide And To Be The First To Know When The Guide is Released


The Brussels Travel Blog provides free information, photos and tips on Brussels travel, Belgium chocolate, about Belgium, the Grand Place, other Belgium cities and more.
The Grand Place Guide is an e-book about the most beautiful square in Europe. Covers history, special events, things to do, shopping, eating, plus 600+ shops organized by street name and category.
Helpful information about Belgium to help you plan your trip: including info on time, weather, holidays and cultural tips.
Brussels travel shows you how to get there via Brussels airlines, cheap flights to Brussels and Belgium trains

Brussels Airlines Will Get You There

Brussels Airlines will get you to the Capital of Europe
Brussels transportation gets you around
Brussels Hotels...From Luxury To Affordability
Go Underground With Brussels Metro
Explore Brussels attractions including top things to do, museums, shopping, monuments, classes and workshops
Enjoy the Brussels Grand Place
If you need a Brussels map, look here.
Take a Brussels Tour
Brussels Car Rental
Belgium Chocolate: The history, the companies, the shops and more.
How to hail a Brussels Taxi
Take A Brussels Bus Tour
Our Belgium food section offers mouthwatering info on famous Belgian foods, receipes and restaurants
Step outside of Brussels and make other Belgium travel plans
Subscribe to Brussels Travel News and keep up with what's on in Brussels
How we started an online business with this site.
Contact the Brussels-Belgium-Travel-Guide.com
Manneken Pis, a statue of a small boy urinating, attracts visitors from around the world.
About the belgian flag
When Are 2013 Belgium Holidays?
Your Belgium Language Primer
Find all about Belgium time here.
Click here to check Belgium weather forecasts
Celebrate Christmas in Brussels with plenty to see, do, buy and eat!
If you need a map of Belgium, look here.
The Atomium has to be one of the most unusual structures in the world.
Find out why the Belgians are as famous for comics as they are for chocolate~
Spend a day at Bruparck and see a movie, enjoy a water park, tour replicas of famous European monuments and enjoy great food!
Cathedral Saint Michael Links Brussels Present with Brussels Past
Visit Villers-la-Ville, an 850-year-old abbey and explore the mysteries of life in the Middle Ages.
Belgium's Cafe-Tasse chocolate company offers unique chocolate products and great gift ideas.
Brussels' Chocopolis offers Belgian and European chocolate
Discover the Secrets of Galler Chocolate
History of Belgian chocolate and what makes Belgian chocolate world famous.
Leonidas Chocolate is Everywhere
Explore the history of chocolate at the Museum of Cocoa and Chocolate
Planete Chocolat Offers Live Workshops, Corporate Gifts & Artisan Chocolate
Spend a day in Waterloo Belgium and visit the Waterloo battlefield, Wellington Museum and the 1000 year old Villiers-la-Ville abbey.
Brussels Walks Offers Guided Tours
Belgium Trains Will Get You There
How to find cheap flights to Belgium
How to get there by car using a map of Belgium
Find A Grand Place Hotel
Find A Cheap Hotel in Brussels
Save With A Brussels Hostel
Find a Brussels Airport Hotel
Belgium Currency: How to pay for things in Belgium
Don't miss this Grand Place good luck tradition!
This guide to Brussels parks features photos and information on some of the city's most popular parks.
Chocolaterie Duval specializes in chocolate demonstrations, origin chocolate and wine and chocolate tastings.
The Choco-Late Chocolate Festival offers four days of fun-filled chocolate tasting, tours, workshops and children's activities.
Discover the wonders of Belgian chocolate by experiencing one of several Belgian chocolate tours.
Take a Day-Trip to Brugge
Waterloo restaurants offer an international smorgasbord of food including Belgian, Asian, Mexican, Italian and American.
Advertise your business in our travel guide