Brussels Walks Offer Guided Tours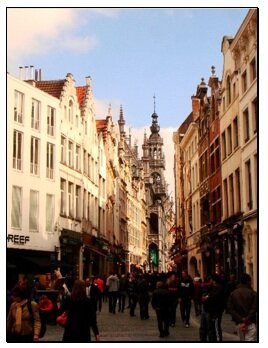 Brussels Walks offers an opportunity to see Brussels from street level, and hear stories and interesting facts about this city from professional tour guides.

This tour company features informed and entertaining tour guides who conduct eight walking tours for groups and guided coach tours by personal request.

The Brussels-Belgium-Travel-Guide recently conducted an interview with Jan Dorpmans, spokesperson for the company. You'll find interesting information in that interview below. And further down, you'll find descriptions of the tours offered and contact information.



---

Click here to learn more about the Brussels Grand Place Guide.

---
An Interview With Jan Dorpmans
of Brussels Walks
BBTG: How long has Brussels Walks been in existence?
Jan: "Klare Lijn, our parent organisation, was founded in December 2000. Brussels Walks, specifically aimed at English-speaking tours, started in 2007."
BBTG: How did you develop the different ideas for the Brussels Walks tours?
Jan: "We sat together and tried to figure out why people would come to Brussels. As most of our guides are contacted by other organisations as well and carry quite some experience with them, we think we know where people get bored or what they would like to see in Brussels. So we developed a tour on the European institutions, one on uptown Brussels, one on downtown Brussels, one on Art Nouveau, one on beer and one on chocolate."
BBTG: Which tours are your most popular?
Jan: "Chocolate, by far. Our pub crawl and our 'classics' tour are quite popular as well."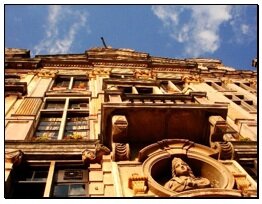 BBTG: How many different tour guides are there and what are their qualifications?
Jan: "Klare Lijn has 16 trained guides (blue badge guides). Brussels Walks works with seven of them. Apart from various professional qualifications (people with a law degree, teachers, secretaries and even an air hostess), we've all obtained our guiding degree at the Coovi school in Anderlecht (Brussels)."

BBTG: How did you get involved in the business?
Jan: "Personally? I wanted to know a little more about my home town, and it got out of hand!"

BBTG: What kinds of comments do you get from people about Brussels during and after the walks?
Jan: "Quite a lot of them do not seem to agree on the label of 'boring city' we get in international surveys. Shame there are no public toilets. Unexpected beauty, especially outside of the city centre."

BBTG: What are your clients most surprised about regarding Brussels?
Jan: "All those beers, the fact that the city can look entirely different when walking from one street into another, the fact that there is so much green in Brussels."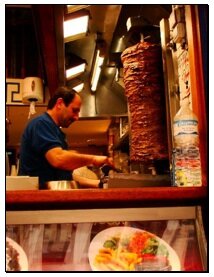 BBTG: Do you conduct tours in multiple languages?
Jan: In addition to Flemish (local Dutch) we offer tours in German, English, Spanish and Russian."

BBTG: How long do tours generally take?
Jan: "It all depends on the group. Tours for parties can set the duration in accordance with time available."

BBTG: Tell us about your most popular tour: The Dark Side of Brussels. What places do you visit during this tour?
Jan: "The Royal galleries, the Grand Place, Boterstraat/rue au Beurre, Lombardstraat/rue du Lombard, and Zavel/Sablon."

BBTG: Out of all the chocolate shops in Brussels, how did you choose those places?
Jan: "Originality, but foremost quality."

BBTG: What chocolate shops seem to be the favorites of your clients?
Jan: "Most people seem to already know Leonidas and Godiva."

BBTG: What other interesting tidbits of information can you give me about this tour that makes it so interesting to your clients?
Jan: "There's no such thing as 'the best chocolate' as we all have different tastes, we quote from various renowned authors, and as one of our guides is a qualified 'chocolatier', she can perfectly tell people how to taste chocolate, how it is made, what to look for when you buy the black gold, how to sniff it (oh yes!) and in case of a chartered walk : depending on the budget, chocolate tasting can be included.


---
Brussels Walks Tours For Groups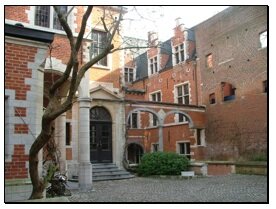 The following tours are offered for groups:
Brussels for beginners
This three-hour tour covers: city park, a 13th century gothic cathedral, the royal galleries, the Grand Place (featuring the town hall (Unesco World Heritage) and baroque houses, narrow streets of the old town, and the Manneken Pis.
Downtown Brussels
Tour covers the Grand Place, Manneken Pis, Royal Galeries and having a drink in one of the alley bars.
Top of The Hill Brussels
Tour covers three parliaments, the royal palace, Royal square, the Sablon area featuring the antique market, Egmont Park. and the Palace of Justice ending with a panoramic view of Brussels.
The Capital of Europe
Tour covers various European Commission buildings including the Berlaymont building. Tour guide explains which buildings serve what purpose and what happens inside each building.

A Brussels Pub Crawl
You'll learn about quality Belgian beers and listed pubs, fairly unknown cafés and even a bar holding a world record. Tour also covers Brewer street (where literary history was made), infamous alleys created during the industrial revolution, the local jail which was to become an expensive hotel, trendy areas in town and more.
Art Nouveau
Tour overs 19th century Art Nouveau architecture including work by Victor Horta and the artform 'Sgraffiti', which livened up housefronts and brightend dull streets with color. The tour ends on the doorstep of Horta's former home.
The Dark Side of Brussels: Chocolate
Find out why Belgian chocolate is the best in the world, how chocolates (or pralines) are made and the do's and don'ts of chocolate.
Modern Art In The Underground
Tour covers various metro stations featuring the work of some 60 artists (mostly Belgians). The Brussels metro system inspired sculptures, paintings, comics and even an installation by the only sculptor whose work can be found on the moon.



---
Contact Brussels Walks
For more information about how to schedule a group walking tour or group tour by coach or telephone:
Phone: (+32)(+0)493/50 40 60
E-mail: [email protected]
Website: Brussels Walks



Return from Choose A Guided Brussels Walk Tour,
to Brussels-Belgium-Travel-Guide.com Homepage