Celebrate Christmas in Brussels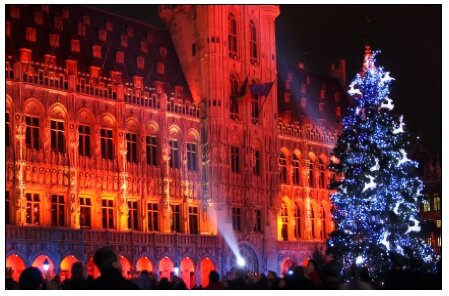 If you want to celebrate Christmas in Brussels, there's plenty to see, do, buy and eat!

On this page, you'll find out how you can enjoy Belgian Christmas traditions, tour the Brussels Christmas market, ice skate outdoors and take in the Christmas cheer of the Grand Place.


Christmas Belgian-Style
In Belgium, Christmas is celebrated twice: once on St. Nicholas' Day, December 6; and again on Christmas day, December 25. On St. Nicholas' day, Belgian children receive toys, chocolates and candy from Pere Noel - if they've been good! If not, their parents warn them they may receive a bunch of wooden sticks.
Melissa, a friend of ours who grew up here, explains it this way: "On St. Nicholas Day, children receive their toys and candy. And on Christmas Day, they receive a more practical gift such as a sweater from their grandmother."
Belgians enjoy getting in the Christmas spirit, so there's lots of shopping, parties and family gatherings. In Waterloo, where we live, the town hall is aglow with beautiful Christmas lights; the main street - Chaussee de Waterloo - is lined with Christmas lights; and if you drive through neighborhoods, you'll find the occasional house lit in colored lights or a Christmas tree shining through a window.
---

Click here to learn more about the Brussels Grand Place Guide.

---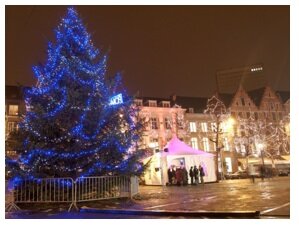 Sablon By Night
Christmas in Brussels begins with this three-day mini fest scheduled in 2013 for Thursday 28 November until Sunday 1 December 2013. This prestigious square called the 'Sablon' features art galleries and antiques shops which remain open until 11:00 pm. Explore one of the most beautiful districts in Brussels with free horse-drawn carriage rides and embark on a magical discovery of the Sablon antiques and shopping quarter. With special festive illuminations and live music.

Our recommendation: get to the Sablon early early and have a hot chocolate at Wittamer's, one of Belgium's oldest chocolate shops. Take home a box of their macaroons and a sack of their speculoos (the best-tasting speculoo we've ever had!)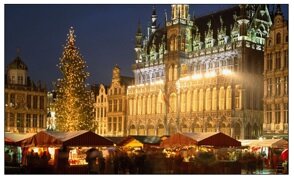 Brussels Christmas Market
A centerpiece of Christmas in Brussels is the Christmas Market, whcih features 240 exhibitors from all over Europe who sell wares from wooden chalets around the Grand Place and in Place St. Catherine. You'll find all kinds of handmade crafts, Christmas ornaments and other gift items. You'll also find good things to eat including pots of moules (mussels), Belgian frites (fries) and yummy Belgian waffles, seasonal croustillons (sugar doughnuts), and Belgium's world famous chocolates and beer.

Dates: 29 November 2013 until 5 January 2014.

Mon-Thu: 12.00-21.00
Fri: 12.00-22.00
Sat-Sun: 11.00-22.00
24 & 31 December: 11.00-18.00
25 December & 01 January : 12.00-22.00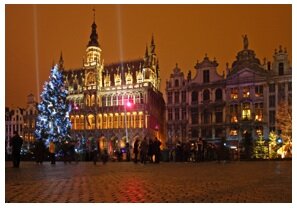 On the Grand Place
One of our favorite Christmas in Brussels traditions was a trip down to the Grand Place to enjoy the beautiful baroque facades of the guild houses and Town Hall illuminated and dressed in festive garlands. The huge Christmas tree towered in the open air with a nearby traditional nativity scene reminding visitors what the season is all about.

Although last year the traditional Christmas tree was replaced with an 'electronic tree', tradition has returned thanks to the Wallonia Region.
A Norway spruce, donated by Wallonia, arrived on November 19 and stands front and center in the middle of the Grand-Place in Brussels for all to see and enjoy. The 17 meter high fir tree comes from the Hertogenwald in the High Fens and grew at the Natura 2000 site.
Sound and Light Show Dates: 29 November-5 January (daily)
Opening hours: Monday to Thursday: 6:00 > 10:00 PM (each hour for 15 minutes)
Friday, Saturday and Sunday: 6:00 > 11:00 PM (every 30 minutes until the last show at 10:30pm).



---
---
Winter Wonders Offers Outdoor Activities
If you like a little activity in your Christmas in Brussels, you should check out 'Winter Wonders', which features a variety of outdoor winter activities including an ice skating rink, a sledding track, roundabouts (merry-go-rounds), an 'Ice Monster' and a ski track.

How To Get There
By train: Central Station
By metro/tram: Bourse (Stock Exchange), Ste. St. Catherine & DeBrouckere
By car: direction Centre

More information: Experience Winter Wonders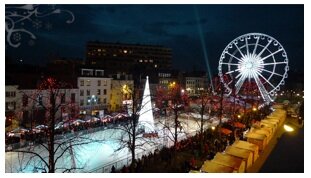 Return from Christmas In Brussels
to Brussels-Belgium-Travel-Guide.com Homepage