Belgian Chocolate Tours Tantalize With Sights, Aromas & Tastes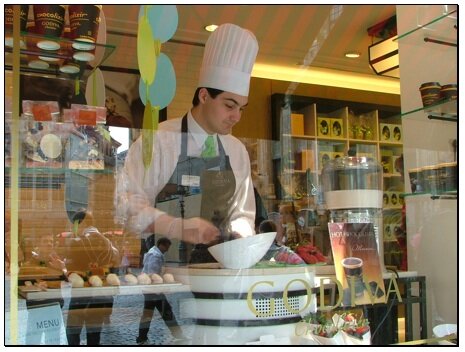 If you have questions about Belgian Chocolate, then one of the Belgian Chocolate tours just might have your answers.

No doubt, the number of Belgian chocolate shops near the Grand Place alone are enough to make your head spin and your mouth water!

But seriously - and the Belgians do take their chocolate seriously - Belgian chocolate newbies can find the choices staggering.Which shops are the best? (And which ones aren't so great?) Which shops are the most affordable? Which shops are true chocolate artisans? And where do Belgian royalty buy their chocolate?

So many questions, so much chocolate, and so little time.


The Dark Side of Brussels
If you're looking for a quick and inexpensive introduction to Belgian chocolate, then we recommend making a reservation with Brussels Walks for a Belgian chocolate tour.
Brussels Walks features informed and entertaining tour guides who conduct four summer walking tours for individuals, eight walking tours for groups and guided coach tours by personal request.
Brussels Walks' The Dark Side of Brussels takes you to some of the premier chocolate shops in Brussels. According to Jan Dorpman, Brussels Walks spokesperson, the tour includes chocolate shops in The Royal Galleries, the Grand Place, Boterstraat/rue au Beurre, Lombardstraat/rue du Lombard, and Zavel/Sablon. "We choose our shops for originality but foremost, for their quality," he says.

Although tourists are always looking for the 'best belgian chocolate,' according to Jan, there is no 'best' as everyone has different tastes. "On our chocolate tour, we quote from various renowned authors, and as one of our guides is a qualified 'chocolatier', she can perfectly tell people how to taste chocolate, how it is made, what to look for when you buy the black gold, how to sniff it (oh yes!) and in case of a chartered walk : depending on the budget, chocolate tasting can be included."
To book a The Dark Side of Brussels tour or for information on other Brussels Walks tours:
Phone: (+32) 02/520 83 93
E-mail: [email protected]
Or see: Brussels Walks